How To Win A Bidding War In A Hot Market
The market has been HOT all summer! I've seen several situations where - when priced right - a home in this hot market can sell in days (or even hours) instead of weeks! So what's a buyer to do when things are moving so quickly? Check out the list below for some pointers!
1) Have an AWESOME Realtor®
Your Realtor® knows the 'ins and outs' of the real estate world, has contacts in all of the necessary places to get things done quickly and has the most up-to-date information available for any homes on the market. Your Realtor® is your go to person for getting advice on the current market conditions and how to write a strong offer to fend off the competition!
2) Be Pre-Approved
Being pre-approved gives you an incredible edge over other buyers. Submitting a pre-approval letter with you offer lets the seller know you are serious and that you have already taken the necessary steps in providing the bank with critical financial information to support your purchase of this property. In most cases, if the seller receives two identical offers but only one comes with a pre-approval letter, the seller will typically side with the offer that is pre-approved!
If you need to talk to a lender, I have a list of several wonderful lenders who I can put you in touch with!
3) Don't Hesitate
"If you sleep on it, you may never sleep in it"! This is so true! In a market like this, if you snooze you may lose out completely. If your first instinct is to put in an offer, don't ignore that feeling because if the next person has the same feeling when they walk through the home, you may not get another chance. When the market is hot, you want to be in a position to make an offer on the spot if you happen to fall in love!
Buying a home is a HUGE decision but if you are already out looking at homes, hopefully you have already done the necessary leg work to know where you want to buy, why you want to buy and what price range you can afford. If you are not there yet - call me and we can discuss what steps need to be taken in order to find the answers to these questions - (419) 344-9435

4) Make Your Offer Attractive
This is again where your Realtor® is going to be instrumental in assisting you to get the home you want. Your Realtor® can guide you through the complications of the offer writing phase of the transaction and give you guidance on escalation clauses, types of financing, market value, inspections and concessions. Of course the price is the first thing the seller is going to see, however "the devil is in the details" so they say - these factors in addition to the dollar amount offered can easily make or break a deal!
Ready to get started? Call me at (419) 344-9435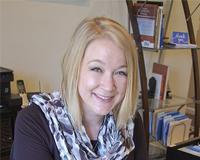 Sheena Rahman is a Northwest Ohio Native, even though she has lived in a few other states, there is just no place like home in Ohio! Her goal is to help you with the process of buying or selling. She ....